The fuses and relays box test bench has two functions in trucks assembly factory:
it displays to the operator the optional fuses and relays to be manually inserted according to the serial number of the truck
it inspects the box by vision checking all standard and optional fuses and relays are in place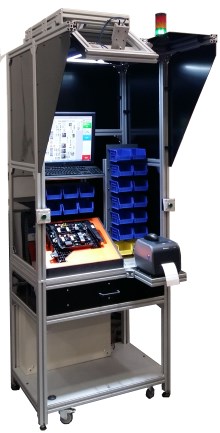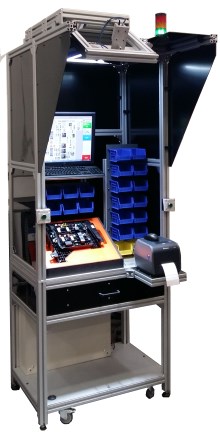 Description
The fuse inspection test bench consists of:
hight quality industrial camera
hight power LED lights
metal structure
test fixture to fix the fuse box
sensors to detect bad insertion of the fuse box
stack lights red/amber/green for test bench state
enclosure to protect computer and electric and electronic components from industrial environment
touchscreen
computer with vision acquisition and vision analysis powered with LabVIEW
The fuse inspection test bench works in two modes:
production mode: this is the operator mode. It displays the optional components the operator have to insert and controls by vision the optional and standards components. It verifies the label part number. The specification of the components are extracted from the production database. At test end, it prints a label with serial number and test result for visual traceability. It generates test report file and synchronizes with network.
maintenance mode: this is the technician mode. It allows the calibration and components identification learning, and verifies the synchronization with the production database.